Post by Administrator on Mar 30, 2012 12:01:21 GMT 10
Before the exchange of populations, the town of
Antifilo
opposite Castellorizo was a small port town that serviced the island and acted as an entry point for the islanders into Anatolia.
In April 1891, the island's chronicler
Achilleas Diamandaras
estimated that Antifilo had a population comprising some 50 Greek families, most of these with connections to Castellorizo. This has been equated to a total population of 500-600.
Antifilo had a small Greek primary school which catered for years 1-3. It also had two churches,
Evangelistria
(or
Evangelismos tis Theotokou
erected in 1866) which now serves as the town's mosque, and the smaller chapel of
Ayios Yeorgios
which was destroyed during WWI.
There are only a few images of the town of Antifilo prior to the departure of its Greek inhabitants. Here is an image from 1915:
The
Evangelistria
church is clearly visible, as is its original bell tower which was later replaced with a minaret. Courtesy of George Mangos, here is a recent photograph of the church's
avloyero
(courtyard) which is still adorned with the pebble mosaic (
votsala
) characteristic of the Dodecanese islands.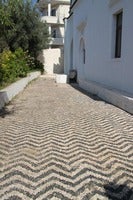 Nicholas