Post by Administrator on May 17, 2007 9:24:04 GMT 10
The earthquake which rocked Castellorizo during the afternoon of 18 March 1926 was a deeply traumatic event for the islanders. While there were only 4 fatalities (Maria Agapitou Kelletsi (8), Mihail Ioannou Poullis (17), Eleni Yeorgiou Stambolli (25) and Asimina Nikolaou Nisyriou (65)), the event was to leave a lasting imprint on the collective memory of the island's community.
Here is a photograph of a group of young men amidst the ruins of a house taken in the aftermath of the earthquake: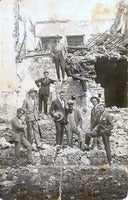 In the middle stands Michalis Christ. Konstandinou (holding his hat). At rear, is Yeorgios Anast. Papanastasiou (leaning on elbow) and in the right foreground is Ioannis Mihail Stamatoglou (with hand on knee). Any other names would be appreciated.
130 houses were destroyed and another 231 seriously damaged by the quake, according to contemporary Italian reports. There was also significant damage to Castellorizian properties in Myra and Antifilo (9 fatalities), Finika (15 fatalities) and Fethiye (Makri). A larger earthquake that hit Rhodes on 26 June of that year caused further damage and delayed the relief effort significantly.
It would be good to hear any stories of the impact caused by the earthquake on Castellorizian families. I recall my own grandmother measuring time by references to the earthquake (
'itane prin/meta ton seismon'
) and I am sure others will have other stories to relate about this significant event in the island's twentieth century history.
Nicholas,
Sydney